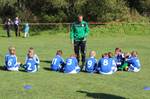 "Formations don't win you games, players do," so said the great Brian Clough and whilst few people would argue with that, settling on the right way of setting up your team is an important starting point for any Grassroots Coach.
Weighing up the relative strengths and weaknesses of your squad and balancing the right tactical formation can be essential for your 11-a-side team, particularly if you're a Junior side making the transition from 9-a-side and have to settle on how you will structure your team in a new way.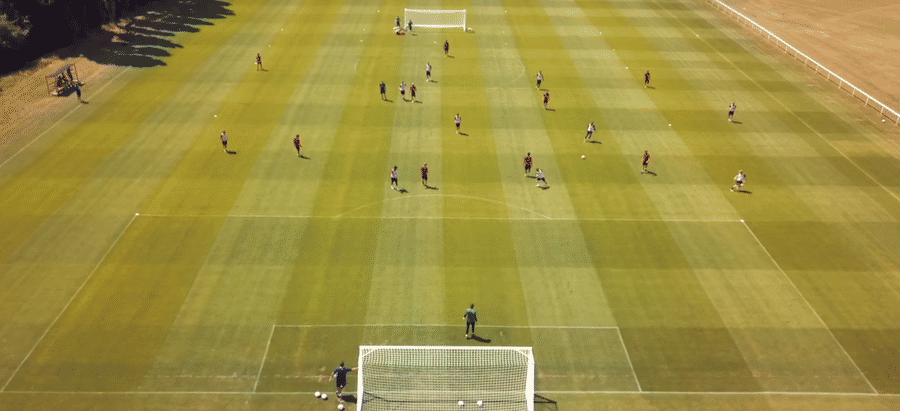 Here's a brief overview of some of the most common formations used in the game that you can adapt to your Grassroots team:
4-4-2 Formation
The 4-4-2 formation is a classic and one of the most popular formations in the game. This formation consists of four defenders, four midfielders, and two forwards. The main advantage of this formation is its simplicity and balance, which makes it easy to defend, counterattack and control the midfield.
This is a popular formation which was commonly used through the 1980's, 1990's and 2000's. It was strongly favoured because of the very balanced and natural way teams occupy the pitch. There are many variations and subtleties to this formation which are often categorised as separate formations in the modern era.
Midfield players are required to be fit and cover the necessary ground to support both in defence and attack. Although an orthodox 4-4-2 is not as common as it used to be, it is still regarded by many as the best formation to provide a balanced formation and to protect the full width of the pitch with two solid banks of four.
Leicester City notably revived the use of the 4-4-2 formation to win the English Premier League in 2016 and one of its biggest exponents Sean Dyche has experienced top flight success with Burnley and now Everton using 4-4-2.
4-2-3-1 Formation
The 4-2-3-1 formation is a popular formation used by many teams around the world. This formation consists of four defenders, two defensive midfielders, three attacking midfielders that break the lines and one forward. The main advantage of this formation is its ability to control possession and create goal scoring opportunities.
This formation is very popular in the modern-day area although really it is just a variation of the traditional 4-4-2 with a number 10 playing off the front and two wide midfield players playing high. The 2 x deep central midfield players often sit just in front of the back four (as 6's) providing a secure base and enabling the full backs to operate higher and join in attacking play.
3-5-2 Formation
The 3-5-2 formation is an attacking formation that consists of three defenders, five midfielders, and two forwards. This formation allows for more attacking options as it provides width and creativity from midfield, making it difficult for opponents to defend against. It usually sees 3 x central defenders with one potentially playing as a spare defender or sweeper and lining up with 2 x wing
backs on the outside. The wing backs often need to be highly athletic as the bomb forward to provide numbers going forward, although also need recover to form a back 5 as needed.
Additionally the 3 x central midfield players can play in any number of ways, with one potentially playing as a no.10 off the front. It can be useful at times to drop into a back 5, particularly when trying to see a game out although teams playing this way can find themselves pinned in as a back 5 and struggle to make the most of the attacking opportunities this formation presents.
4-3-3 Formation
The 4-3-3 formation is a popular attacking formation that consists of four defenders, three midfielders, and three forwards. This formation allows for quick transitions and counterattacks as well as providing width in attack. This is often seen as the basis for possession based teams as the natural line up provides good passing options and angles.
There are countless variations of 4-3-3 with a traditional way of playing having the 3 x midfield players tight together providing a defensive screen and the 3 x forward players often split wide allowing spaces for joining midfielders to exploit. Teams often play this formation more expansively in the modern era with a 6 and 2 x 8's in midfield meaning there can effectively be a line of 5 across the width of the pitch in the final third. This is used to good effect by Jurgen Klopp and Pep Guardiola.
4-5-1 Formation
The 4-5-1 formation is a solid line up that is a slightly more defensive version of 4-3-3 and consists of four defenders, five midfielders, and one forward. This formation is often used by teams that recognise they will have less of the ball than their opponents and prioritise defensive solidity and counterattacking. The main advantage of this formation is that it provides a strong defensive base and allows for quick transitions from defence to attack with midfield players given the license to crash into the top third. This enables the team to attack as a 4-3-3 but defend as a 4-5-1. Another variation of this to provide balance is where the player wide player on the opposite side to the ball will drop in to make a 4-4-2 when defending.
3-4-3 Formation
The 3-4-3 formation is an attacking formation that consists of three defenders, four midfielders, and three forwards. This formation allows for quick transitions and attacking options, making it difficult for opponents to defend against. However, the 3-4-3 formation can also leave the team vulnerable defensively, especially if the opposition is playing with wingers or attacking fullbacks.
This formation largely relies on the ability of the two outside midfield players to work the full length of the pitch and support both defensively and in attack. Again this is a formation that teams can be fluid with and play in a number of different ways, for instance a diamond 4 in midfield or with the central striker dropping off the front to make a pyramid with the 2 x central midfield players. It's a formation that is once again becoming popular in the modern game.
Whilst it's important to not obsess over formations in Grassroots Football, it can be useful to have a working understanding of several options. Resticting some players to specific positions is not always advised and by experimenting with different formations it can provide variety to the roles they play within your team.
What do you think of this article?
Like, share and comment using the options below:
Share on your favourite social network