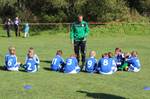 It's definitely been a long time coming but after years of casting envious glances at the technical abilities displayed by the likes of Spanish, French and German footballers, and too many disappointing international tournaments to mention, are we finally on the brink of producing a generation of young players that can compete technically with the best? If so, then what are the factors behind this?
England have had many false dawns in the past. Our youth international teams have been through successful periods and accumulated tournament wins over the years without ever going on to repeat their success at senior level. The 1990's and 2000's gave rise to the supposed 'Golden generation' with hopes resting on the likes of Beckham, Owen, Scholes and Lampard to bring some overdue success to the National team but too often we arrived at summer tournaments a tired mess, nursing injuries and sluggish. They never really delivered on their potential although in fairness, the Golden generation tag was a classic British media trick, the same old 'build them up to knock them down' poison that still pervades to this day.
England Youth sides have continued to find success although our more recent tournament accomplishments have been different to previous years. Gone are the days of highly combative, brutish youth teams muscling their way to victory and there is a new breed of technical players that are taking on, and beating, the best Europeans at their own game.
In 2010 England's under 17s won the European Championships, but of that squad only Ross Barkley and Jack Butland went on to win senior caps. The star of that tournament was Connor Wickham, who mostly used his physicality to outmuscle smaller defenders. A pattern that many within Junior Football will recognise.
In Spain and Germany, players generally arrive in the senior national team with around 70-80 caps accumulated through the different age groups, although this is something that hasn't really happened over the years in England as the physical players who have dominated the younger age groups are generally caught up and overtaken by more technical players leading to much chopping and changing through the senior age groups.
More recently, England's outstanding 5-2 victory against Spain in the Under-17 World Cup final provided the perfect ending to an unprecedented run of success for the FA's age-group teams. In recent years, England have also been crowned world champions at under-20 level and won the European under-19 title, not to mention winning the prestigious Toulon tournament for the second year in a row.
But as mentioned, it's not just about the substance of recent results as it is about the style in which they've been achieved. Much of the optimism for the future is gleaned from the way these teams now play, a result of a long process of transformation from grassroots upwards in how our young players are coached at all levels.
Most parents with players in junior football teams will see a significant change between their own experience and how their own children are now coached. Thankfully, gone are the days of aimlessly hoofing the ball forward into 'safe' areas of the pitch and the win-at-all-costs dinosaurs are slowly dying out. It's much more about ball retention, movement, quick, assertive passing and personal development.
The obvious influence of elite Premier League coaches like Pep Guardiola and Jurgen Klopp at the top end of the game must also be a factor with EPL teams mostly playing fast football with high physical intensity, in an expressive style. Between them English players ranging from Phil Foden to Harry Kane to 'old' stagers like Jordan Henderson have benefited hugely from this progressive brand of coaching, and this influence filters right the way down to our young players of tomorrow.
It's now several years since Howard Wilkinson introduced the modern academy system in which 12,000 young footballers are now being trained by professional clubs from the age of eight. It's a system that has drawn many critics over the years and not all aspects of it are ideal with a number of creases remaining to be ironed out over 20 years since it was first introduced but it's hard to argue that it's principle objective – to provide a conveyor belt of highly talented young players who can compete on the world stage, isn't at last being achieved.
We now have some of the best youth developers in the world in this country and they are developing some of the best young talent. But it hasn't been an overnight transformation and this has been a long progression which began with the introduction of academies and passed some significant milestones along the way including the building of St George's Park. Once that was in place, it became about having a development plan and sticking to it.
Yet there is still much work to do. Wider scouting networks and improvements in capacity mean many more players are being engaged at a young age and nurtured through the age groups via greatly improved coaching, although too often many are cast aside and have a difficult route back into the game or are lost completely with a high percentage not playing at all by their mid-20's. The poster boy for that group of players, Jamie Vardy, should hopefully provide young players facing disappointment with the inspiration that the route to the top remains open to them although clubs can still do more to support young players released back to Junior Football.
Coaching badges in this England remain stubbornly more expensive than in other European countries which can lead to talented coaches going to waste.
Despite this, it can be argued that there's never been a better time for children to be involved in grassroots football. There is a technical revolution taking place that begins in our parks and local football clubs – so if your son or daughter has an interest in football, or wants to emulate the young stars in the England team then join your local Junior club and unleash their potential!
What do you think of this article?
Like, share and comment using the options below:
Share on your favourite social network