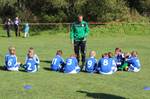 Long term health issues seem very distant to the players involved in Junior football, so the decision to restrict the amount of heading of the ball that young people can do might seem like unnecessary interference in their fun to some.
In a move that has had major implications for Junior Football, in February 2020 the English Football Association announced the introduction of new guidelines to limit how often children can head footballs during training.
This followed the Scottish Football Association who introduced a similar ban for under 12 players, making it the first country in Europe to do so.
Individual clubs such as Bournemouth FC had already introduced their own guidelines banning under 12's from heading the ball in training.
These decisions were based on significant research from a University in Glasgow revealing a likely connection between football and various brain conditions such as dementia.
Cynics may suggest that tackling has largely been lost to the game in recent years and that football has become less of a contact sport anyway, so why not just get rid of heading altogether? Others would argue that we've seen enough changes forced onto the game and that the physicality of football is a key element to making it the game it is.
After all, heading is a skill and one that is much prized in professional circles. By banning heading in training are we robbing Junior players of the opportunity to develop their technique and ultimately holding them back?
The English FA asked a group to look into the issue of heading in Junior Football in 2019 after the findings revealed professional footballers are 3.5 times more likely to die of dementia than the average person gained significant coverage.
The USA has already banned children aged 10 and under from heading footballs and there are also restrictions on players aged 11-13 heading the ball during training sessions. As yet the limits apply only to training and not matches.
By limiting exposure to heading in training, the FA clearly believes it is reducing the risk and protecting the kids of today and future generations against the dangers they could face later in life. You have to wonder if at the heart of this is a desire to protect themselves from any future legal liability too? Nothing clears the path for organisational change quite like the threat of being sued for damages. After the release of Glasgow University's research, the FA said:
"The FA's research taskforce has instigated a review of possible changes to heading coaching and training at all levels to decrease overall exposure to heading without compromising technique. It is imperative that football now does everything it can to further understand what caused this increased risk and what can be done to ensure that future generations of footballers are protected."
Legendary England centre forward Alan Shearer investigated the links between heading and dementia in a BBC documentary in 2017. You can view it here:
This programme shone a light upon several tragic cases involving high profile ex-football players and degenerative brain disease. England 1966 World Cup winners such as Martin Peters and Nobby Stiles helped bring a focus on this issue, as did the dementia related death of former West Bromwich
Albion striker Jeff Astle at the age of only 59. In court, the coroner attributed his dementia to heading heavy footballs in his professional career during the 1960s and 1970s.
The "never did me any harm" crowd are surely running out of defences? However, many opponents of limiting heading point to new lighter footballs in the modern era providing a safer option for heading the ball. Glasgow University, however, are quick to debunk this as contrary to popular opinion, the regulation weight of a football hasn't really changed for decades. The design of footballs has radically changed but the parameters in which they must fit are largely the same as they ever were.
Many of the old fashioned balls were made of leather which would absorb water when they got wet and made them become much heavier. However, this also had the effect of slowing them down so the pressure on the head when making contact wasn't radically increased. Today's modern footballs are designed to make the game faster and travel much more quickly so, even though they appear lighter, the pressure exerted when heading is similar.
Most people would like to think that heading will always be a part of football and may argue that by removing heading from training we are taking away the opportunity for them to master appropriate heading technique and potentially exposing them to greater harm. Others would argue that the risks are simply too great and we have no choice but to act.
What do you think of this article?
Like, share and comment using the options below:
Share on your favourite social network