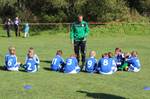 The importance of communication in junior football coaching should not be underestimated and extends to players and parents but is led by you, the coach.
The quality of your results often rests on the quality of your communication and when reflecting on your own coaching practice, it is well worth asking yourself some honest questions about who you are communicating with and how effectively.
Put simply, player communication is the life blood of coaching. Your knowledge of the game is not what will define your success, it is how much of that knowledge you can successfully pass on to your players. To effectively teach you must have a relationship of mutual respect with a player and a high level of effective communication.
Take your time to earn respect
Players open their hearts and minds to people who they respect. It is sometimes easy to become frustrated when coaching and complain that your players aren't listening after an error in a game betrays the positive work you delivered in training. The fact is though, if you do this it is just a form of abdicating responsibility, and what they have learned is a direct reflection of your ability to teach.
If the only time your players hear your voice is to criticise, you will have less impact. It is important to converse with your players consistently and especially when you are together as a team. You should take time to chat with your players and as your relationship grows, your potential to teach and positively influence will improve.
When reflecting on the quality of your communication it often highlights that the biggest opportunities for improvement are within training sessions and matches.
Be confident but also relaxed
When dealing with junior football players, it's important to communicate in a confident and relaxed way that is authoritarian without being overbearing and dictatorial.
The quality of your language will be picked up on by the players you are communicating with and judged accordingly. The tone of your voice will often have an effect on their own self confidence and it is important that you remain calm even though this is sometimes very challenging, especially when the game is unfolding in front of your eyes and you wish to make improvements.
Don't let emotions take over
For so many junior football coaches, the moment the referee blows their whistle, the emotion kicks in big time and their communication skills become compromised but we become redundant when we fail to communicate and so we need to find ways of maintaining our standards.
There are numerous examples of coaches on sidelines resorting to shouting and losing control of their communication because they are frustrated with what they're watching.
This has a self-defeating effect and only results in a loss of confidence and belief from the players. Good communication from the coach encourages your players to become good communicators themselves.
Develop your players communication skills
The quality of communication from your players has a direct correlation on how they are able to perform. The quickest way to improve your players is to make them more effective communicators in their play.
The quality of information flowing between your players has a significant impact on its overall effectiveness. There are a few familiar key phrases you can introduce to your junior players for them to adopt and use appropriately which will have a significant impact on their appreciation of the game, their confidence and results.
"Turn," "Up," "Time," "Squeeze," "Relax," "Drop," or "Hold," are all key words which paint pictures in the minds of your players even when they do not have a full view of the play. Noisy teams that have lots of communication between the players are often the best and most confident teams.
It's important to point out there is a significant difference between communicating high quality information in play and either berating teammates or indulging in largely meaningless cheerleading which has little effect.
It is much more important to encourage your players to impart good quality information that improves your teams overall shape, positional play on the pitch, unity and attacking effectiveness.
Most junior players wouldn't recognise communication as a skill but it's a very important one and an area where you can make quick wins as a coach in their individual development. Usually it is only the highly confident players that demand the ball when they're open but encouraging them all to do this helps to breed communication and confidence.
Good, descriptive communication helps players to organise their teammates and learn a deeper appreciation of the game.
Positive communication also helps to motivate your team to play smarter, faster, and better. Instead of kicking them when they're down after making a mistake, encourage your players to pick up their teammates using some positive communication.
You can also encourage your team to support their play with non-verbal communication of which there are several examples.
For instance, when a forward sees a midfield player lift their head it can mean that is the trigger to make a run in behind or pull onto the shoulder of the last defender.
A forward can point in the direction where they would like ball to be played in either to protect it from a defender or to turn and run.
Good communication improves organisation
Whilst these different forms of communication support effectiveness of your team it is also essential that the quality of your information and communication extends to the nuts and bolts of running your junior football club and the weekly arrangements which hold it together.
Getting the right people to the right place at the right time is not as simple as it may seem and with different pitch availability and moveable training times it's very easy for mistakes to be made and people to be left behind.
Obviously there are different options out there to support this and many clubs are turning to solutions like TeamStats to support them with much of this essential communication.
TeamStats helps to provide all stakeholders with all the information they need both pre and post-match and makes your job of tackling some of these communication challenges much easier.
At all stages of the process of running your junior football team it's important to remember that communication is absolutely fundamental to your success.
It helps players develop, it helps your team overall and it supports the practical arrangements of your junior football club too.
What do you think of this article?
Like, share and comment using the options below:
Share on your favourite social network