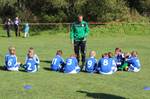 In order for young children to develop their touch and control skills, it's essential that they have the right balance between pressure and time with the ball.
Unfortunately, my experience is that many young players still find themselves playing football on pitches that are too large for their age group leading to vast open spaces with no requirement for them to develop good first touches and close control, the absolute essentials for footballers.
This often extends to training sessions where the pressure to replicate the conditions of the weekend match leads to big, open games that produce runners, not footballers.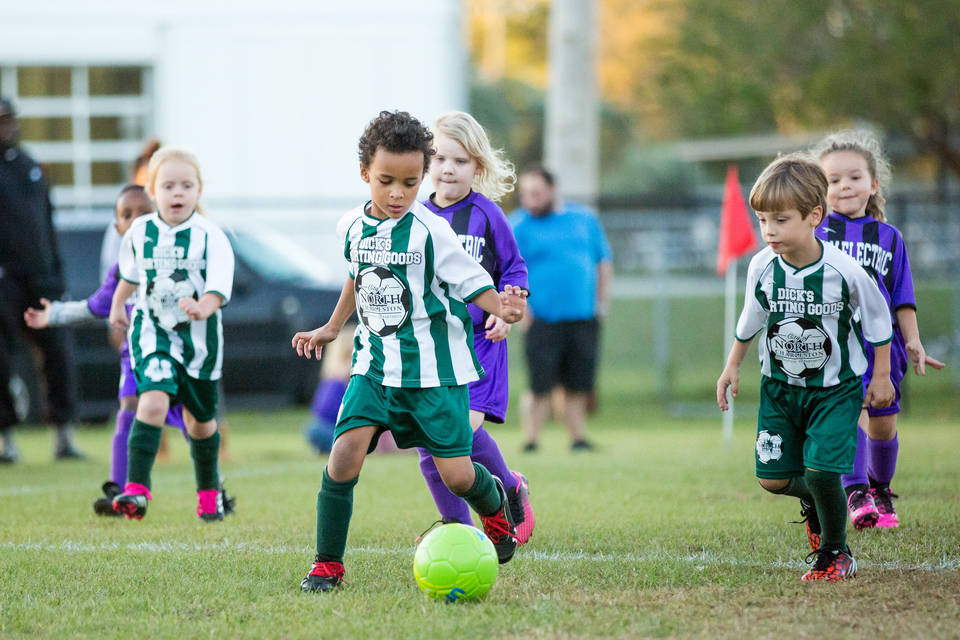 Studies have consistently shown that games with fewer players, such as four, five, or six per team, are far more effective in developing the skills of young players. Not only that, but small-sided games are also much more enjoyable for the participants.
Simply put, children who regularly play small sided matches get more touches on the ball compared to those playing the regular form of the game. These matches force children to make decisions more frequently, which is a crucial aspect of their development. The ball is always within reach, leaving no time for ball watching or daydreaming. They remain focused and engaged and by having the ball close at hand, players are encouraged to follow the play more closely, which helps them develop off the ball skills often neglected at a young age.
With average 'in possession' contributions for each player rarely totalling more than a minute in a game, what they learn to do off the ball has a significant effect on the players they become. Junior Football matches played on over-sized pitches, result in isolated players on the fringes of the play.
Goalkeepers and strikers often spend a significant amount of time isolated with little to do and effectively making no contribution. In contrast, small sided matches provide much more action and far more scoring opportunities, ensuring that every player gets the experiences they need.
Despite some recent improvements and a tightening of guidelines from the FA, the number of children engaging in regular small sided football matches is still far below what it should be. Various factors contribute to this, including an excessive focus on playing competitive football at early ages.
The sale of playing fields and municipal pitches has also deterred many children from playing football for fun. The nostalgic "jumpers for goalposts" scenario has largely disappeared from streets and local communities.
The Football Association is actively advocating for more small sided football projects in communities, and it is hoped that things will improve in the coming years. When compared to 11-a-side football, statistics clearly demonstrate that small-sided matches are excellent for developing a wide range of skills. For instance, players in 4-a-side matches touch the ball five times more frequently than those in 11-a-side games. Even in 7-a-side matches, each player enjoys around 50 percent more time with the ball.
Strikers need to experience goal scoring scenarios thousands of times to refine their technique and decision making. FIFA statistics reveal that players face one on one situations with the ball three times more often in small sided games.
Even in 7-a-side football, a child will encounter double the number of these crucial situations compared to a child playing the standard game. Small-sided games offer plenty of action, providing youngsters with the experiences they need to learn and improve. For example, a goal is scored every two minutes in a 4-a-side match and every four minutes in an average 7-a-side match. Goalkeepers are involved two to four times more frequently in small sided formats.
Also, the ball is out of play for just eight percent of the time in 4-aside matches, while it's out of play for 34 percent of the time in 11-a-side football which fuels the UK obsession with teaching young players to throw in!
Obviously the most popular small sided game is Futsal, played on a smaller court with a smaller ball and there was a big push to popularise the game a decade ago but this seems to have stalled more recently. Futsal, a variant of football played on a smaller indoor pitch, has gained significant popularity worldwide, although was much slower to take off in the UK. With its fast pace, technical skills, and emphasis on teamwork, Futsal offers a very different experience for players. There are Futsal leagues and competitions out there that cater for players of different ages and skill levels.
The FA remains the governing body for Futsal in England and provides information on leagues and opportunities as should your local FA. To locate Futsal facilities in your area, consider checking local sports complexes, community centres, or reaching out to sports organisations and schools with gyms. Some Futsal specific facilities may also have websites or social media pages that provide details about their services, such as court rental, training programs, and league participation. Engaging with the game of Futsal in the UK is a potentially beneficial route to go down, with a variety of local leagues and facilities available to cater to players of all ages and skill levels.
By assembling your team, researching local leagues, and reaching out to organisers, you can make it a part of your season to help improve your players and give them a chance to develop and shine. However, any team or training session can incorporate small sided games in their own way and you can create your own small sided pitch using football cones, markers, and / or portable goals.
Whether you organise 4 / 5 / 6 or 7-a-side matches, the basic rules of the game apply, although you may choose to eliminate throw ins and designate the penalty area as off limits to outfield players. If you wish to adhere to national standards, simply consult the FA guidelines on small sided football on their website.
Small sided football games don't even have to be traditional 'matches' in the sense of one team outscoring the other. There are alternative games like "Prison Break," where players pass and dribble their way out of a "prison" while defenders act as "prison guards" trying to prevent them from escaping a defined area. Other games include "Dutch Shooting Game," "The Key Player," and "Steal the Ball."
Ultimately, the primary goal when setting up small sided games for youngsters is to ensure that all children have ample time with the ball and enjoy themselves.
What do you think of this article?
Like, share and comment using the options below:
Share on your favourite social network