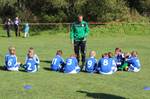 How much ability have your players been given by nature and just how much of a difference can you make to them? What makes a professional football player? Or perhaps a more relevant question to ask a junior football coach is what role can you play in making a future professional football player?
Exactly how much of an input and Influence can or should you have, or has the end point of their journey already been pre-determined by genetics?
As a grassroots football coach you are constantly thinking about the effect you have on the players you are working with in order to make them the best that they can be and how you can improve your coaching to achieve this.
This means you often find yourself looking deeply into the vast range of nuances that come together to contribute to an individual player's development and you challenge yourself to come up with the perfect balance between hard work, technical training and playing experience. This in itself is no easy task.
No matter how much you think about it you find yourself coming back to the age-old question of the relative importance of nature versus nurture.
As many different scientific studies have proven, there is some element of both required to reach a good level in football and to be a world class football player you need to have a significant contribution both from nature and nurture.
Ultimately as a coach we have to accept that we cannot influence the nature aspect but can only 'control the controllables' which is to work on nurturing each player in an informed and intelligent way that takes account of their starting points, strengths & weaknesses and their overall potential.
The biggest thing that any junior soccer grassroots coach can influence is the training environment in which your young players are learning and developing in.
If this is a high quality environment with a positive atmosphere that is conducive to building confidence and improving players, then you are a long way towards doing all you can for developing their talent.
The environment for developing talent is an extension of you and your personality and will have arguably the greatest bearing on how well your players are nurtured on their journey.
But what does a high quality environment look like?
No matter how much I try and 'design' one the thing I'm rarely unable to escape is the fact that the culture often outweighs the strategy, so that any technical training or intense drills only really work when they are delivered in a positive atmosphere.
In order to build this in the right way you really need to love the work that you do. Coaching is at its absolute best when it comes from the heart, and has genuine passion and enthusiasm for developing young players as a constant thread running through it.
So when we get back to the question of developing the perfect football player or making players as good as they possibly can be, I actually consider it to be more important to not necessarily think about what drills or technical refinements you can make with players, but to actually think about the quality of the coaching environment and the atmosphere that surrounds it.
When looking at the nature versus nurture argument and accepting the fact that we cannot alter what Mother Nature has given the players we're working with, we can inspire a real passion for the game of football and a love for the sport.
When you look at the top performers in just about any sport then one of the things that unifies them is their love of what they do.
Getting to the top in any sport, or even close to it, requires years of dedicated practice, strong mental toughness to be able to come through serious injuries and an overwhelming inner steel to bounce back from the disappointments and defeats that clutter the early stages of any career.
The route through all of that is a love of the game and that love of the game germinates with you and the coaching environment that you build for them at an early stage.
So after creating the right environment to nurture our players in and deliver the technical skills they need to become better players, what are the other things that can make a difference?
For me, a piece that often gets missed in the modern era is inviting your young players to think about the game in more detail.
With the huge changes brought about by the Premier League there has been a shift in recent years and fewer and fewer young people are attending live football matches on a weekly basis, choosing instead to watch Premier League football on television.
This means they are missing out on a big piece of their football education. Watching the game purely down the lens of a camera on a television screen offers such a narrow field of vision that they are growing up without a wider appreciation of tactics.
Again this is a void which a good soccer coach can help to fill by asking them to think more deeply about the game, its tactical make-up and how they can succeed at it. What are the game situations where positioning and team shape have a significant influence. What small advantages can be eeked out by players with a greater understanding and awareness?
By getting them to think in more detail, you are helping to nurture their natural ability and make them better players all the time.
These are not necessarily things that session plans and all the technical FA coaching will invite you to think about, but for me these are the crucial soft skills that can make all the difference to young players.
It helps instill their passion, it helps give them a love for the game and it helps them to think more deeply about what they are doing and becoming more successful players.
Ultimately those are key tools in nurturing them to become the best players that they possibly can be and the greatest contribution you can make.
What do you think of this article?
Like, share and comment using the options below:
Share on your favourite social network