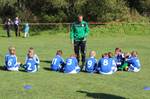 Starting and then running a football team is one of the most rewarding experiences you can ever be a part of. The banter, camaraderie and sheer fun are second to none, and that's usually before you even set foot onto the pitch!
Setting up a Sunday league team or a Junior football team for one of your children to play in is a bit more complicated than it might seem at first though and it goes way beyond just getting a group of players together.
There is more to it than most people realise, although none of the extra stuff should put you off because as most people who have enjoyed playing football over the years will tell you it's one of the best things you can do.
Here's a look at some of the obvious and not so obvious things you need to know about setting up your own football team.
Recruiting Players
Having said there is more to it than just getting a group of players together, the most important aspect of it all is finding enough players to give you a team. This doesn't just mean eleven for a team on the first day of the season, but a full squad that will be able to carry you through an entire programme of fixtures. You need to be able to cover absences and injuries as you go.
Amateur football has the virtually unrivalled ability to provide you with incredible reasons why your players are having to miss next Sunday's game. Everything from being grounded as a 24 year old, to still being chained to a lamp post following a stag do to being 'accidentally' arrested have all entered local Sunday league folklore!
Having enough people you can rely on can actually become more difficult than it sounds, because once you get underway there is very little let up in the fixture list and fulfilling a full season of fixtures is relentless. A good strategy is to have some 'just retired' or occasional players you can hook in at the last minute if needed.
Sorting Out Pitches
That's pitches plural. One of the biggest outlays you will find your team shelling out for is a winter training venue. Either an indoor gym or floodlit AstroTurf pitch on a weekly basis throughout the winter months will set you back a tidy sum.
You also need to find yourself a suitable pitch of a reasonable standard to play your matches on and you will need to think about organising nets for your goals. Not just having them there but also having the manpower to cover the legendary Sunday morning activity of putting them up in the rain!
Get Some Balls
You need to have both training and match balls to play with - and plenty of them. You'll be astounded as to how many footballs you lose (or find their way into other people's bags by accident). Make sure you have a good stock of these or can quickly buy more to get you through a full season.
Playing Kit
You will probably want a smart kit to play in. Having a kit design that everyone agrees on can be the most challenging aspect of the lot and then of course it will need to be washed on a weekly basis.
Do you trust your players to take their own kit home and be responsible enough to bring it back the following week?
Or will you find like most of the other items of equipment, it soon starts to dwindle. Is taking turns to wash the entire kit taking too big a risk? If you put all the shirts into one bag to be washed and brought back the following week are you taking the risk that the person responsible will be the one still chained to the lamp post from the night before?!
Equipment
You need to get your hands on the right equipment to be able to have training sessions and play matches.
Things like bibs and cones can be picked up relatively inexpensively; again an important rule of thumb is that you can never have too many of these sorts of items because they soon get damaged or go missing.
Team Politics
There is also all of the internal politics of organising the team. If football's ability to unite is all powerful, its ability to divide as people fall out over the right way of doing things, is just as potent.
This will rarely show its teeth more obviously than when people are deciding which team to pick and who is being left out as a sub. It really doesn't take too many weeks of standing on the touchline as a substitute in the cold before people start to get fed up and looking for something else to do with their mornings. It's amazing how the DIY suddenly looks more appealing when you've driven half an hour to be an unused sub in the rain.
How do you manage this and how do you balance the competing priorities of ensuring your team is as competitive as it possibly can be whilst keeping everybody in the squad equally happy?
Finances
Unfortunately most of the things mentioned so far cost money and the club will have to be self financing.
If you're extremely lucky, you might have one of your players to call on or even a benevolent Father of a player with their own company who is prepared to provide you with some form of sponsorship to help you.
However, if this isn't an option the chances are you will be entirely reliant on self-funding in the form of the dreaded "subs"
Keeping track of which players and parents have paid is almost a job in itself - it's very rare that people have the right money on them at the right time. Prepare too for a crash course in cashflow management because the chances of them having provided you with the money you need ahead of all the outlays is virtually nil.
Getting help
I'm sure by now you realise that setting up your own team can be a lot of work, usually far too much for one person.
Try to find others who will share the various responsibilities with you - ideally you'll have someone different to cover the manager, secretary and treasurer roles.
Another great option to save you time and hassle is to use a team management app such as TeamStats which can really help simplify and automate various management, organisation and administration tasks - these include some great features such as availability tracking and receiving subs payments online.
The Rewards
If you're able to crack all of the above then you're on to a winner because having your own football team is one of the very best things you can do.
The physical, mental and social benefits can be unrivaled, and it will be an experience you look back on with great fondness as some of the best times of your life.
What do you think of this article?
Like, share and comment using the options below:
Share on your favourite social network