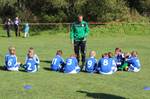 If you were a junior football player yourself, the chances are that you want or perhaps even expect your child to follow in your footsteps and play the game.
Football stirs irrational passions and a sense of belonging in people, and many parents naturally expect their own children to follow in their footsteps and go into junior football without hesitation or protest.
However, if you are a newcomer to the world of junior football and it passed you by in your own childhood, you might have some doubts or even some reservations about what you are letting yourself and your child into by playing for a local junior football team.
Whilst it can seem like a big drain on your time with all those training sessions and weekly matches, it is important to point out that there are many benefits to children playing junior football and very often these extend beyond the most obvious.
Scratch under the surface and you start to realise that the game, and their involvement in it, offers up any number of life lessons and good habits that will serve your child well as they mature into adults.
Here's a look at some of them.
Fitness
The most obvious benefit to playing junior football comes in the form of fitness. Football requires good levels of fitness to be able to play and even playing for a short time is going to have a substantial and beneficial effect on the overall health of your child.
Playing football at an elite level requires the ability to run intensively at speed and it is important to build up stamina and endurance. This occurs naturally the more you play.
Football is also full of short burst twisting and turning motions and helps build strength and muscles through the core of the body and elsewhere. A strong bank of fitness in their formative years helps to make for healthy adults.
Social skills
Football throws your child in with a whole new section of friends and very often a different crosssection of peers from a range of different socioeconomic backgrounds.
By playing for a junior football team your child is going to meet new people, make new friends and be offered a broader perspective from a different people of their own age.
Learning to be part of a team
This is a highly sought after skill in modern life and one your child can develop at an early age by playing Junior football. It also helps them to appreciate collective responsibility and their role within a team of people striving to achieve the same collective goal.
Your child will have their own responsibilities within the team environment and their ability to deliver and take pride in their own contribution to the team's success is a fantastic head start on a life skill that's sure to be important for the rest of their lives.
Dealing with disappointment
As anybody who has been involved with football for any length of time will tell you, disappointment is never too far around the corner! Football has the habit of dishing out regular life lessons in the form of crushing disappointments and your child will soon develop the mental strength to be able to cope with them and strengthen their character.
Being able to use disappointments in a positive way and build on them to respond appropriately is a fantastic life lesson.
Dealing with success
By contrast, football also throws up opportunities to celebrate success and to do so in a mature and magnanimous way is again a highly important life lesson.
Discipline
Despite the fact they are often given poor role models in the form of Premier League players on Match of the Day showing ill-discipline towards the referees and officials, your child will be required to maintain their discipline on a football pitch.
In contrast to their professional counterparts, junior football encourages high levels of discipline and all players must respect the authority of the referee otherwise they are not allowed to play.
Coping with with pressure
Taking a last-minute penalty to win your team the game or being exposed to other pressure situations on the football field can really help to develop character and maturity in young people.
Although it is a team game and encourages everybody to play their part, there are inevitably times when all eyes will fall on your child and they will carry the hopes of the rest of their team.
Responding in a positive way does not always come naturally to young people but junior football will enable them to grow and be strong in the face of pressure situations.
Competitiveness
Contrary to what has been reported by some people, the will to win is not being systematically removed from our children and a healthy sense of competition still exists in junior football. The 'snowflake' generation still want to win their football matches even if the results and league tables aren't published until they reach a particular age.
Wanting to win is a key driver of achieving anything and junior football draws this out of young people in a healthy way.
Self-esteem
A word of encouragement or a pat on the back plays such a significant role in the emotional development of any child and football offers up countless opportunities for this. Savvy coaches are quick to praise all their players for good play or as they develop as players, and they also support them through the tough times with words of encouragement too.
Junior football and the people within it supports young people in building their self-esteem.
Pride
As an extension of building their self-esteem, giving your child something that they are contributing to and that they can be proud of is a huge boost to their own confidence and sense of worth.
It could be that they struggle in other areas of their young lives (at school for instance if they're not academic) then giving them the opportunity to be proud of their achievements in their junior football team is a terrific way of building them up.
Even if that is merely by contributing to the wider success of their team rather than any huge individual achievement, it helps to boost their confidence and overall outlook on themselves.
So, if your child wants to get involved and you might be thinking, 'football's not for us' or 'why am I driving them to the other side of town twice a week,' it's important to bear in mind the multitude of physical and emotional development benefits from junior football.
Many of these only present themselves when you are actively engaged in it and even if you don't feel it at the time, one day you will thank yourself.
In addition to the above, there are numerous other benefits too but it's important to bear in mind that junior football develops very well rounded young people who go on to achieve all sorts of things in their lives not just within football but in the wider world as well.
What do you think of this article?
Like, share and comment using the options below:
Share on your favourite social network